MSc in
MS in Analytics
Kogod School of Business Online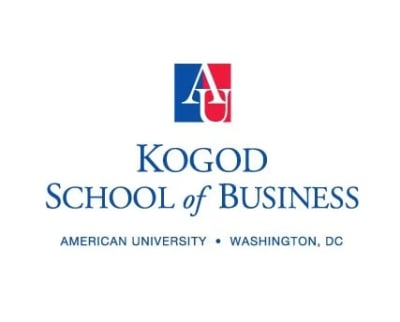 Key Information
---
Campus location
Online USA
Study format
Distance learning
Tuition fees
USD 63,426 / per credit
Application deadline
15 Dec 2023
Earliest start date
01 Sep 2024
Introduction
An MS in analytics is ideal for professionals who want to apply data insights to make a real difference for their organizations. In the program, you'll learn how to use evidence-based data gathering, data modeling, and quantitative analysis to help businesses make informed decisions and gain competitive advantages.
Data analysis plays a crucial role in solving organizational challenges and making effective business decisions. An MS in analytics provides you with an in-demand skill set that will allow you to step into more specialized roles in your career. Plus, that expert knowledge in this complex field may open more lucrative doors in your career.
Why get an MS in Analytics at Kogod?
Business-Centric
The program is housed in DC's first accredited business school, and it shows. Our curriculum takes students through the full lifecycle of business analytics by providing foundations in technology, finance, insurance, utilities, manufacturing, consulting, government, and business intelligence.
Hands-On Learning
The MS in analytics is designed to bridge the gap between theory and practice from day one. Throughout the program, you'll gain a command of programming languages like R, Python, SQL, and Tableau. The highlight of our program is the capstone experience, where you'll partner with a local organization on an analytics project.
Guest Speakers
Guest speakers are also a key component of your education and have included Leif Ulstrup, CEO and founder of Primehook Technology; Rod Fontecilla, vice president and global lead advanced data analytics for Unisys; and Anshu Sinha, principal data scientist for Zocdoc.
Functional Specializations
Gain in-depth knowledge in a particular area and graduate with a skill set that sets you apart. Choose from marketing, biostatistics, IT consulting, forensic accounting, finance, or computational statistics. You can also work with your advisor to create your own specialization.
Professional Certificates
Gain an edge in this competitive job market by completing one of our professional graduate certificates. Enhance your degree with a certificate in forensic accounting or any of our other five graduate certificate options.
Dedicated Faculty
Our faculty are renowned experts in their field and key players in the profit and nonprofit sectors, government, and global organizations. As mentors, they are invested in the professional and academic success of our students.
Designed for professionals interested in using data to reveal critical insights.
Automatically considered for scholarships upto $30,000
Curriculum
Core Competency (9 credit hours)
ITEC-610 Applied Managerial Statistics (3)
ITEC-616 Managing the Digital Organization (3)
ITEC-670 Database and Big Data (3)
Analytics Foundation (9 credit hours)
ITEC-620 Business Insights through Analytics (3)
ITEC-621 Predictive Analytics (3)
ITEC-660 Business Intelligence (3)
Electives (12 credit hours)
Complete 12 credit hours from the following, with a maximum 9 credit hours from non-Kogod coursework, or other graduate work approved by the Information Technology and Analytics Department Chair or the Analytics (MS) Program Director:
Kogod Accounting and Accounting Forensics
ACCT-550 Accounting Information Systems (3)
ACCT-551 Forensic Accounting: Fraud Examination and Litigation Support (3)
ACCT-600 Ethics in Business and Accounting (3)
ACCT-607 Financial Accounting (3)
ACCT-649 Contemporary Assurance and Audit Services (3)
ACCT-677 Financial Statement Analysis (3)
ACCT-680 Advanced Forensic Accounting and Fraud Investigation (3)
ACCT-760 Advanced Auditing and Professional Practice (3)
Kogod Finance
FIN-574 Quantitative Methods in Finance (3)
FIN-605 Managerial Economics and Corporate Strategy (3)
FIN-614 Financial Management (3)
FIN-630 Financial Analysis of the Firm: Concepts and Applications (3)
FIN-660 Financial Modeling (3)
FIN-665 Quantitative Methods in Finance I (3)
FIN-666 Quantitative Methods in Finance II (3)
Kogod Information Technology and Analytics
ITEC-600 Programming Tools for Analytics: Python (3)
ITEC-623 Organizational and Social Network Analytics (3)
ITEC-630 Business Process Analysis (3)
ITEC-643 Project Management (3)
ITEC-666 Cybersecurity Risk Management (3)
ITEC-667 Cybersecurity Governance (3)
ITEC-668 Cybersecurity Analytics (3)
ITEC-724 Big Data Analytics and Text Mining (3)
Kogod Marketing
MKTG-612 Marketing Management (3)
MKTG-632 Understanding the Marketplace and Consumer (3)
MKTG-641 Digital Advertising and Search Engine Marketing (1.5)
MKTG-642 Managing Digital Brand Identities (1.5)
MKTG-661 Data-Driven Marketing and Customer Management (3)
MKTG-671 New Product Management (3)
MKTG-767 Research for Marketing Decisions (3)
Non-Kogod Statistics and Data Science
STAT-520 Applied Multivariate Analysis (3)
STAT-521 Analysis of Categorical Data (3)
STAT-605 Introduction to Survey Sampling (3)
STAT-615 Regression (3)
STAT-622 Advanced Biostatistics (3)
STAT-625 Statistical Software (3)
STAT-627 Statistical Machine Learning (3)
Capstone (3 credit hours)
KSB-620 Analytics Practicum I (1.5)
KSB-621 Analytics Practicum II (1.5)
Rankings
Ranked #11 Best Online Master's in Business Analytics by US News and World Report in 2022.
Ranked #17 in Online Business Programs for Veterans by US News and World Report in 2022.
Ranked #35 in Online Business Programs by US News and World Report in 2022.
Program Outcome
Comprehensive Core
The MS in Analytics program consists of 33 credit hours. The courses in core competencies and analytics foundations provide a well-rounded understanding of the field. You'll learn evidence-based data gathering, data modeling, and quantitative analysis, as well as how to implement these tools to provide businesses with competitive advantages. Students gain skills to work in business intelligence, financial analysis, marketing, and consulting.
Practical Expertise
To further your expertise, you'll either choose a functional specialization or a functional background. These concentrations allow you to elevate your skills in some of the most critical aspects of analytics.
The highlight of our curriculum is the Capstone Practicum, which gives you the chance to apply high-level analytical skills to real-world data. When you graduate, you'll leave with the practical know-how to take on that next step in your career.
Career Opportunities
Graduates of the program can work as:
Intelligence analysts
Financial analysts
Marketing analysts
Business analytics consultants
Entrepreneurs
Supply chain managers