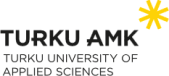 Turku AMK - Turku University of Applied Sciences
Home ›
Finland ›
Turku AMK - Turku University of Applied Sciences
Read more on the institution's website
Turku University of Applied Sciences (TUAS)in Turku, one of the leading universities of applied sciences in Finland, hosts 9,500 students studying for a Bachelor's or Master's degree. The range of our degree programmes covers several fields of education, providing a good platform for interdisciplinary learning.
Studies at TUAS are working life-oriented, combining theoretical studies with professional skills. At the core of our teaching is Innovation Pedagogy, a new approach to learning developed at TUAS. Innovation Pedagogy emphasises the viewpoints of RDI and working life, making our graduates independently minded professionals with excellent international and communication skills.
Turku University of Applied Sciences offers Bachelor's and Master's degree programmes conducted in English.
Approximately 1,500 professionals graduate from TUAS yearly.
Key figures
Students 9,500
Staff 750
Bachelor's degree graduates 1,806
Master's degree graduates 131
Publications 424
Ongoing projects 244
Exchange students 333
Foreign degree students 356
Unique expertise from Southwest Finland
We offer Bachelor-level education also in English and have English-taught degree programmes in:
Information Technology (specialisation in Internet Technology)
International Business
We offer Master-level education also in English in the degree programme in:
International Business Management
Leadership and Service Design
Locations
Turku
Address
Turku University of Applied Sciences
Joukahaisenkatu 3 A
20520
Turku
,
Finland