University of East London Online
Home ›
University of East London Online
Read more on the institution's website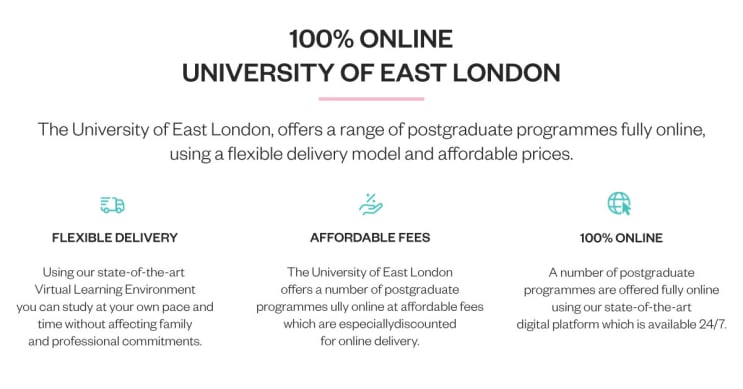 At the University of East London, we stand for academic excellence, inspirational teaching, and cutting-edge projects in the real world.
We're one of the leading modern universities in the UK for research. Our academics bring this research into the classroom, ensuring that what you learn represents the very latest thinking in your subject.
Courses offered
MBA

This course is designed to give you the opportunity to develop an academic underpinning in the core areas of Business and Management.

LLM (General)

This programme is designed to give you the opportunity to enhance your capability to find rewarding, satisfying and productive employment.

MSc Big Data Technologies

Graduates of the programme are expected to have a comprehensive and critical understanding of all concepts and activities for large-scale data analytics and to demonstrate expertise in Big Data Analytics.
MSc Computer Science

This programme is designed to help students design and develop large-scale, software systems by developing their knowledge and research skills in IT, computer vision and data analytics.

MSc Construction Engineering Management

This course is designed to develop specialists in the management of multidisciplinary organisations in the construction industry, who can apply theory into practice and have the capability to work in an international environment.

MSc Data Science

Designed to develop knowledge and research skills in Data Science, an understanding of the ecology within which a Data Scientist operates and professional skills in Data Science techniques.
MSc in Information Security and Digital Forensics

The programme focuses on developing skills in the field of information security and digital forensics, through a mixture of theory, advanced practical skills and experience.

MSc in International Business Management

The programme aims to develop the skills required to handle successfully the opportunities and challenges present in today's international business environment.

MSc in International Relations

Aiming to develop the ability to analyse issues and debates, as well as an understanding of the contexts and analytical frameworks within which International Relations operates.
Fees and funding
Government funding and Student loans
There are various opportunities for government funding and student loans which you may be eligible to apply for. For more information, you may visit: https://www.gov.uk/masters-loan/
Investing in your future
Studying for a postgraduate degree is an investment in your future. The knowledge, skills and experience you gain will help you stand out in the highly competitive graduate jobs market, launching you on your career path or taking your existing career in a new direction.
Tuition fees
The University of East London offers significantly lower fees for its online programmes. Speak to a Student Adviser for more information.
External funding
Various external organisations and research councils offer funding to support postgraduate students in their studies.
Online experience
Online learning has revolutionised higher education. As an online student, you are able to learn at your own weekly schedule, study wherever it is most convenient, and keep your job, or continue to care for your family. Your appointed student adviser will help you become familiar with the entire process. Before you commence your studies he or she will be by your side, whenever you need support, and will continue supporting you until your graduation.
Testimonials
"This course has helped me to develop my data analysis skills and in understanding the use of data in society, and guess what, l can now programme open-source software, which will give me confidence in my future career."

Maddie King
MSc Data Science

"MSc International Relations at University of East London has been an enjoyable and worthwhile experience. The lectures are engaging and stimulating and staff are friendly and approachable. This course has given me the tools and confidence to move forward in my career."

Katy Savage
MSc International Relations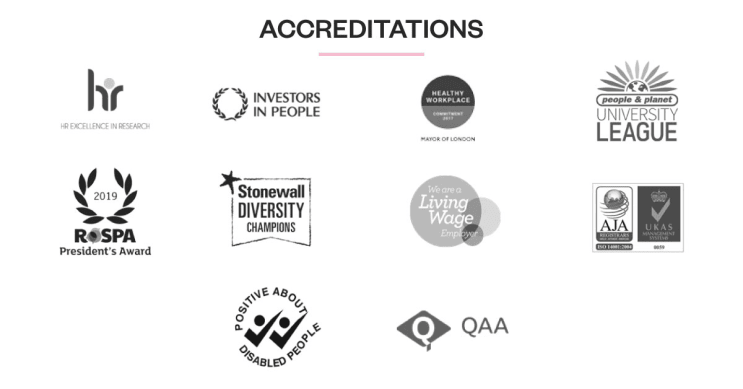 Locations
Online United Kingdom
University of East London Online
Address
University Way, Royal Docks, London E16 2RD, United Kingdom
London
,
England
,
United Kingdom