MISSION
To inspire and equip professionals through practicable, accessible skills-enhancing programs that promote career advancement and personal success.
VISION
American Heritage College envisions a market in which ambitious, industrious professionals can access affordable skills training to help them achieve measurable career advancement that enriches individuals, companies, and society at large.
VALUES
Accountability: Just as we hold ourselves accountable to our students and our larger community, our students display accountability to themselves.
Professionalism: The professionalism with which we run our college is reflected back to us in the professionalism our students learn and display.
Excellence: We are committed to excellence in serving our students and creating a more highly trained workforce for our community – our students also strive for excellence in their academics and in their lives.
Flexibility: Our flexibility is a key factor in our ability to pivot to meet the demands of the ever-changing job market, and we seek out teachers and students who display this quality through their willingness to continually update their skill sets to stay relevant despite their career paths' increasingly diverse demands.
Integrity: Integrity is the core of American Heritage College; it is what we display in all our actions, and is an integral part of what our students bring out into the community when they leave our fold.
APPROVALS
American Heritage College is a private institution approved by the Bureau for Private Postsecondary and Vocational Education, pursuant to California Education Code Section §94311.
The Bureau's approval means the institution is in compliance with state standards, and does not imply any endorsement or recommendation by the state council.
American Heritage College is recognized or/approved by: California Employers Association, Department of Rehabilitation, California EDD-ETPL, and is an approved service provider for the Workforce Innovation and Opportunity Act (WIOA).
JOB PLACEMENT ASSISTANCE
With its laser focus on re-educating working professionals, the successful placement of graduates is of critical importance to American Heritage College. All graduates gain access to placement services -- both pre- and post-graduation. Our placement specialists not only help graduates find new jobs, but also help graduates strategize for career advancement within their current companies.
American Heritage College is certified and/or approved by the following privatized & government firms.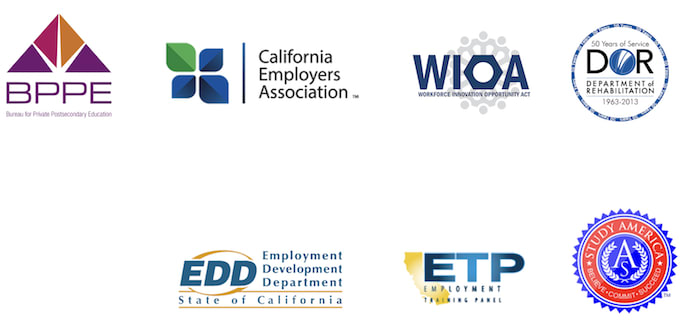 Locations
Orange
Orange Campus
Address
765 The City Dr., Suite 380
92868
Orange
,
California
,
USA
Garden Grove
Garden Grove Campus
Address
11277 Garden Grove Blvd, Suite 200
92840
Garden Grove
,
California
,
USA
Long Beach
Long Beach Campus
Address
4201 Long Beach Blvd., Suite 220
90807
Long Beach
,
California
,
USA
Oceanside
Oceanside Campus
Address
815 Mission Ave., Suite 204
92054
Oceanside
,
California
,
USA
Programmes
This school also offers: